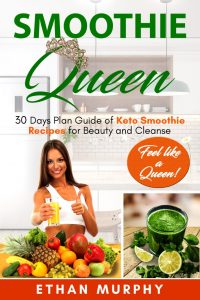 "About Smoothie Queen: 30 Days Plan Guide of Keto Smoothie Recipes for Beauty and Cleanse:
Whether you want to cleanse, lose weight, or just make sure you get your daily dose of minerals and essential vitamins, drinking a smoothie is a tasty way to improve your health with Smoothie Queen Keto Recipes.
The recipes are easy and quick to make and also have wonderful pictures.
This book is designed for people who want to start to love themselves again – and having more time, more energy, a better body; and more fresh food in the diet is the best way to start doing so.
All the Smoothie Queen Keto Recipes are designed to make you feel great – once you've started to include smoothies in your diet regularly, you'll wonder how you ever survived without them.
Targeted Age Group: any age
Written by: Ethan Murphy
Buy the ebook:
Buy the Book On Amazon

Buy the Print Book:
Buy the Book On Amazon
Author Bio:
Ethan Murphy is a pen name of the author for the cookbook series.
The author was born in 1958 and raised in the USA. He spent his childhood years in Ferndale. His mother was an editor. Ethan started loving all aspects of cooking when he was a child, and he began his roadmap to become a great chef and a writer. Ethan learned how to use and appreciate fresh ingredients while cooking when he visited his grandparents who were farmers. Ethan loves every aspect of preparing delicious dishes and educating the world how to cook well.
After finishing high school, he joined Princeton University to study Bachelor of Business. He later pursued a degree in Human Nutrition. With his nutritional knowledge, he has helped several people in their fitness journey through diet. He also worked as a publisher, editor, and writer for the past several years. He loves writing about what makes life happier and simpler.
He has been a dedicated chef. His areas of expertise are recipe development, professional and health cooking, and meal plans. Books by Ethan include Lectin-Free Cookbook, Smoothie Queen, and Magic of Lectin Free Diet.
Follow the author on social media:
Learn more about the writer. Visit the Author's Website
Facebook Fan Page
Twitter
Instagram
This site contains affiliate links to products. We may receive a commission for purchases made through these links.