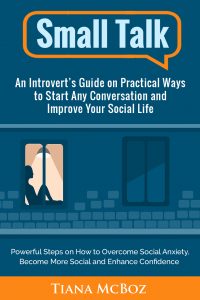 "About Small Talk: An Introvert's Guide on Practical Ways to Start Any Conversation and Improve Your Social Life:
– I am totally self-sufficient and I need no one in my life.
– Why bother going out when I don't know what to say when I am out?
– How do I even start a Conversation?
– Even if I start a conversation, would the connections really last?
– Do you feel scared and uneasy whenever you are at a social function?
Sound familiar? I was exactly like you, an introvert who wanted badly to become more social but felt held back from doing so.
Eventually, I succeeded to stay introverted while being outspoken and social.
Now, when I go out, everyone around me thinks that I am an extrovert. When I tell them my story, they don't believe it.
This inspired me to share my journey with others who may either be introverted or striving to improve their social skills.
Let me tell you how in my book…
Targeted Age Group: All
Written by: Tiana McBoz
Buy the ebook:
Buy the Book On Amazon

Buy the Print Book:
Buy the Book On Amazon
Author Bio:
I'm an Author of self-development books, Speaker and Strategist.
I help driven individuals around the globe recognize their strengths, capitalize on them and reach their full potential.
I wish I could say that I've always excelled in self-development. Truth to be told, I used to be completely opposite – I drifted through life open to new experiences but without direction. Often, I was busy doing nothing and wasting my time. Very attractive image, right?
No drastic, dramatic, or magical event happened to push me towards change; I just wanted to change. And this is the key, to change – you need to want to change.
If you're serious about that too, we will most probably get along!
Follow the author on social media:
Learn more about the writer. Visit the Author's Website
Facebook Fan Page
Twitter
Instagram