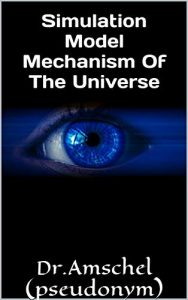 "About Simulation Model Mechanism Of The Universe by Dr. Amschel (pseudonym):
What kind of awareness we have about our own existence and the world that surrounds us? At first glance the idea that the universe is a simulated sounds just like a movie plot but it is essentially a legitimate scientific hypothesis. High-profile physicists and philosophers suggest that the likelihood of our entire existence being a program on someone's hard drive is very high. However, such existential sounding simulation hypothesis is essentially untestable. Is reality what it seems, or the fabric of the space-time continuum has hidden underlying layers into its texture that lie just below the plain covering of our everyday existence. Does contemporary scientific evidence point toward intelligent design hidden in plain sight as viable alternative? How can fundamental science describe the possible simulated reality? This eBook offers explanation on simulated reality through the connection between science theory and technological evidence.
Key Features:
– Representation of the principles of Simulation model mechanism of the universe;
– Scientifically determined energy equivalence of information;
– Comprehensive explanation of Nikola Tesla's free energy research;
– Scientifically determined trend of huge decline in intelligence quotient points of populations in developed countries;
– Explanation why the philosophical view on Simulation hypothesis is not correct;
Author's note:
Because of the complex subject interpret your maybe as not or at least not now.
Targeted Age Group: 40
Written by: Dr. Amschel Pseudonym
Buy the ebook:
Buy the Book On Amazon

Follow the author on social media:
Instagram
This site contains affiliate links to products. We may receive a commission for purchases made through these links.