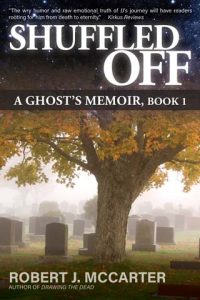 "About Shuffled Off (A Ghost's Memoir Book 1):
"JJ's heartrending passage, kicking and screaming, through Elisabeth Kübler-Ross' five stages of grief for his lost life, is relatable for any reader who has lost a loved one too soon…The wry humor and raw emotional truth of JJ's journey will have readers rooting for him from death to eternity." Kirkus Reviews
Sometimes death wakes you up…
Death comes for us all, but when JJ Lynch dies, it's one hell of a wakeup call. He's forced out of the rut of his going-nowhere meat-life and must embrace his new after-life. With a gallows sense of humor, JJ fights his way through the five stages of grief on a journey you will never forget.
Along the way he has to confront the bardo (his own personal hell) and delicately tie up his loose ends. If he's not careful, one of his loved ones will die.
Life is not easy, even when you're a ghost.
Using technology developed at the University of Arizona, JJ communicates from beyond the veil to tell his mind-bending story of life beyond death in his own words.
Targeted Age Group: 18-64
Written by: Robert J. McCarter
Buy the ebook:
Buy the Book On Amazon

Buy the Print Book:
Buy the Book On Amazon
Buy the Book On Barnes & Noble/Nook
Author Bio:
Robert J. McCarter is the author of six novels, three novellas, and dozens of short stories. He is a finalist for the Writers of the Future contest and his stories have appeared in The Saturday Evening Post, Adomeda Spaceways Inflight Magazine, Everyday Fiction, and numerous anthologies.
He has written a series of first person ghost novels (starting with Shuffled Off: A Ghost's Memoir) and a superhero / love story series (Neutrinoman and Lightningirl: A Love Story), as well as two short story collections.
Of his latest novel, Seeing Forever, Kirkus Reviews says, "Sci-fi as it should be: engaging, moving, and grand in scope."
He lives in the mountains of Arizona with his amazing wife and his ridiculously adorable dog.
Follow the author on social media:
Learn more about the writer. Visit the Author's Website
Facebook Fan Page
Twitter
This site contains affiliate links to products. We may receive a commission for purchases made through these links.