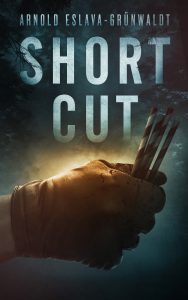 "About Shortcut:
A popular high school student takes a shortcut across a field on a moonless night and gets shanked for her efforts. The following day, a forgotten old man dies in an apparent slip and fall accident in his garage. On the surface, the two deaths have nothing in common. Or do they? That's what Detective Sergeant Hamilcar "Ham" Hitchcock and his general assignment squad aim to find out. Fresh off the Keim case, and recovering from the loss of several key members, the Yonkers, New York-based team reinvents itself and dives headfirst into the fray. Before they get too far in their investigation, however, a newspaper intern finds the body of a woman in a dumpster. In the blink of an eye, the team inherits another, equally challenging case-and its a doozy. At the top of their list of clues are several short-cut cherry striped straws and a mysterious, corrosive salve. Is the murderer a jealous BFF? A greedy caregiver? A soft-spoken homeless man? A cruel, sadistic predator? When the stars eventually align in the squad's favor, an unexpected catastrophe threatens to, once again, temper their success.
Targeted Age Group: 18 and above
Written by: Arnold Eslava-Grünwaldt
Buy the ebook:
Buy the Book On Amazon
Link to Series: https://www.amazon.com/Shortcut-Cut-Book-Arnold-Eslava-Grunwaldt-ebook/dp/B07B8QDYPZ

Author Bio:
Arnold Eslava-Grünwaldt is a former U.S. Navy journalist and a graduate of the University of California at Berkeley. He's a proud New Yorker, loves Captiva Island in Florida, and has a soft spot for Alameda, California. In addition to writing, Arnold likes to kayak and go on hikes.
This site contains affiliate links to products. We may receive a commission for purchases made through these links.