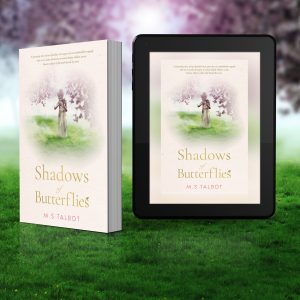 "About Shadows of Butterflies:
A haunting story of two families torn apart by an unthinkable tragedy that in its wake threatens to reveal deeply hidden secrets known only to a few and shared by none. " Charismatic and handsome Henry Maycroft was the darling of the glittering fast set of Edwardian London. As an eligible bachelor of independent means, Henry's life was a social whirl of society balls, dinners, races, and country house parties. That was until the summer of 1897 when a beautiful and spirited heiress, Estelle Grieves-Croft, the much-cherished only daughter of the aristocratic and wealthy Lord and Lady Archibald Grieves-Croft danced her way into Henry's heart. Henry and Estelle married in December 1897 and returned to Shorehill and Riverside, the Maycroft family home. Henry's older brother Bernard was delighted, convinced now that Henry would settle back into the family business, the Maycroft Paper Mill. When a son, James Maycroft, was born in 1898, a delighted Estelle declared her world complete. Henry, however, increasingly restless and bored with village life, yearned to return to his life in London. Estelle happily immersed herself into village life as Henry, discontent and unhappy, was drawn back to London, back to his old friends, the gaming tables, and the inevitable parties. Then in April 1912, an unthinkable tragedy shocked the world and ripped apart the very fabric of both families. Off the Grand Banks of Newfoundland a mighty Liner, bound for New York sliced her way through the black, icy waters of the North Atlantic. A million stars glittered in a perfectly clear night sky. There is no moon. Titanic is just hours away from New York when she strikes an iceberg. Travelling on Titanic's maiden voyage to New York is Henry and Estelle Maycroft and the affluent and aristocratic Grieves-Croft family.In the uneasy years that follow, as the families struggle to pick up the pieces of their lives, the black shadow of war hovering above Europe begins its menacing journey towards the shores of Great Britain.
Targeted Age Group: 18 – 80
Written by: maureen talbot
Buy the ebook:
Buy the Book On Amazon

Buy the Print Book:
Buy the Book On Amazon
Author Bio:
M S Talbot is a Kent based Estate Agent, who has always been fascinated with the period homes that she valued and loves to explore the histories of the families who have lived in them. The location of the book is based on a combination of the many lovely Kent villages she has visited over the years. She has always had a deep love of books and is an avid reader.
Follow the author on social media:
Facebook Fan Page
Twitter
This site contains affiliate links to products. We may receive a commission for purchases made through these links.