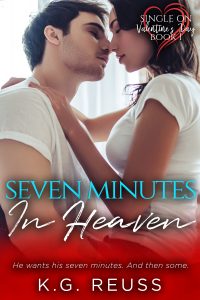 "About Seven Minutes in Heaven:
You never know what you had until it's gone.
Trevor Valentine had it all ten years ago. Then she ran, leaving him to find love elsewhere, but the only thing he's ever found since was heartache. When approached for help with a new promotion for Single Status, a website geared toward being single, reluctantly Trevor signs up. A week in a mountain retreat might be just what he needs to get over his latest breakup. A blast from the past when he walked in the door was the last thing he expected.
Unlucky in love.
Sasha Hart is down on her luck. With her dreams gone up in smoke, literally, she agrees to her best friend's plan to sign her up for the new promotion from Single Status. The promotion promises she'll be paired with her perfect match. Instead, Trevor Valentine swaggers in, all smiles and sweet talk. Ten years ago, they spent seven minutes in heaven locked in a closet that led to years in hell.
Can they meet in the middle to rekindle what they felt all those years ago or will Trevor's history of heartbreak tear them apart for good? One thing's for sure, Trevor never forgot about Sasha, and this time he's willing to walk through hell to reclaim his heaven.
*A standalone romance
Targeted Age Group: 18+
Written by: K.G. Reuss
Buy the ebook:
Buy the Book On Amazon

Author Bio:
K.G Reuss was born and raised in northern Michigan. She currently resides there with her husband, her children, two dogs, a cat, and a few ghosts. K.G. is the author of The Everlasting Chronicles series, Emissary of the Devil series and The Chronicles of Winterset series.
When K.G. Reuss isn't pursuing her love for reading and writing, she is working in emergency medicine.
Follow the author on social media:
Learn more about the writer. Visit the Author's Website
Facebook Fan Page
Twitter
Instagram
This site contains affiliate links to products. We may receive a commission for purchases made through these links.