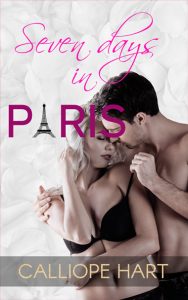 "About Seven Days in Paris:
Thalia, a heartbroken divorcee, is done with men – or at least that's what she thinks. But when her friend invites her to spend some time with her in Paris and introduces her to Adrien, a drop-dead handsome artist, she's not sure of anything anymore. She tries to ignore her feelings, but every time he talks, his voice sends shivers down her spine, and his green eyes make her feel warm inside.
The moment Adrien, the bad boy of Paris art scene, lays eyes on a beautiful blond with pale skin and lush lips, he knows that he has to make her his. He knows that she wants him, but there's something that keeps her from giving in to her desires. He has only seven days to break down her walls. Will he find the way?
Thalia and Adrien's relationship is like an immaculately conducted musical piece. Their bodies seem to be in perfect harmony, and they both feel like they've known each other for years. But is it enough to make them make the right decisions?
Targeted Age Group: 18+
Written by: Calliope Hart
Buy the ebook:
Buy the Book On Amazon

Author Bio:
Calliope Hart writes short, sweet, and sexy romance books. She lives in a little waterfront house with her husband and daughter. She loves strong coffee and strong but gentle heroes and heroines.
Follow the author on social media:
Twitter
This site contains affiliate links to products. We may receive a commission for purchases made through these links.