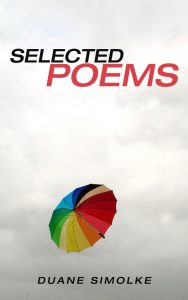 About Selected Poems:
Just 99 cents!
This short eBook includes the gay love poem "Home," the strange story of "The Gardener," and the comical "Angels and Razors," as well as thirty other poems.
Complete list of poems in this book: Chasing Seagulls, Home, Album, Children in the Streets, The Gardener, Friday Afternoon Spectrum, Reception, second year, Angels and Razors, Separated, Faces, Songs In Sign Language, Forgotten, Higher Education, Family, Ex-Gay? Part I: Cocoon, Ex-Gay? Part II: The Ex-Me Movement, Ex-Gay? Part III: Who Does God Hate?, The Escape Artist, Daughter, The Same Lips, Pharisee, Anne Bradstreet, Bareback, Cycle, Cross, Two Rapes, Rainbow, Elephant On An Opera Stage, Detour, Editing, Process, Haiku.
Buy the ebook:
Buy the Book On Amazon
Buy the Book On Barnes & Noble/Nook
Buy the Book On Smashwords
Buy the Book On iBooks/iTunes
Buy the Book On Kobo

Author Bio:
Duane Simolke wrote The Acorn Stories, Degranon, Sons of Taldra, Holding Me Together, and New Readings of Winesburg, Ohio. He co-wrote The Return of Innocence: A Fantasy Adventure and The Acorn Gathering: Writers Uniting Against Cancer. Simolke lives in Lubbock, Texas, and has received four StoneWall Society Pride in the Arts Awards.
Follow the author on social media:
Learn more about the writer. Visit the Author's Website
Twitter
This site contains affiliate links to products. We may receive a commission for purchases made through these links.