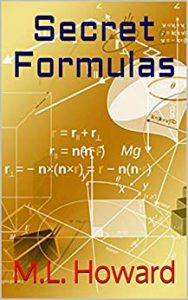 "About Secret Formulas:
Secret Formulas is a short-read book about formulas which are often the key ingredient to a successful business.
Contents include:
Introduction: The Eureka Archimedes Principle
What is a secret formula?
The difference between a secret formula and a winning formula
How modifying an existing formula can open up new business opportunities
Case Study: The famous Coca-Cola formula and how it was guarded for many years
Secret formulas that have yet to be discovered
The basics on how to develop a formula and test it
Tips on how to guard a secret formula
Exercises to hone your formula skills
How to avoid being labeled a "mad scientist"
Targeted Age Group: 18+
Written by: M.L. Howard
Buy the ebook:
Buy the Book On Amazon
Buy the Print Book:
Buy the Book On Amazon
Author Bio:
M.L. Howard is a concept designer who has spent many years developing formulas, systems, and product ideas. I wrote the book "Secret Formulas" as an entry to the Storyteller UK 2019 writing contest. This is the fifth book I have self-published. I enjoy helping other writers with proof-reading and editing.
This site contains affiliate links to products. We may receive a commission for purchases made through these links.