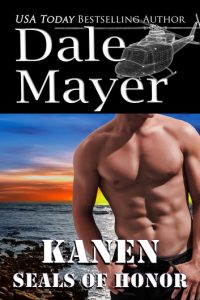 "About SEALs of Honor: Kanen:
His best friend's wife is in trouble…
A panicked phone call sends Kanen flying across the ocean to find that she's been held captive in her apartment, tortured for something her dead husband supposedly hid.
Only she knows nothing about it and her husband is, well, dead…
Dead men don't talk – or do they? As they unravel the mystery Kanen has to delve into his friend's life to see what he'd done that put his wife in jeopardy. And find her captor, before he decides to kill her.
Laysa doesn't know what this man wants, but after seeing Kanen again after so long she knows what she wants. But is it a betrayal of her husband? Then why was her husband hiding things?
And why did her captor want them? Even worse, if he got them in his possession, what was he planning to do with them?
Targeted Age Group: 18+
Written by: Dale Mayer
Buy the ebook:
Buy the Book On Amazon
Buy the Book On Barnes & Noble/Nook
Buy the Book On Apple Books
Buy the Book On Kobo
Author Bio:
Dale Mayer is a prolific multi-published writer. She's best known for her Psychic Vision Series. Besides her romantic suspense/thrillers, Dale also writes paranormal romance and crossover young adult books in different genres.
To go with her fiction, she writes nonfiction in many different fields with books available on resume writing, companion gardening and the US mortgage system.
She has recently published her Career Essentials Series.
All her books are available in print and digital format.
And then there's her poetry…
My Path
As I walk forward on my path to the future,
I choose laughter, love, and light as my sutures,
stitching together my lifetime of choices,
as the essential fabric of my being rejoices
in the love, friendships, and faith that follow
the steps I take as I flow into my tomorrow.
Follow the author on social media:
Learn more about the writer. Visit the Author's Website
Facebook Fan Page
Twitter
This site contains affiliate links to products. We may receive a commission for purchases made through these links.