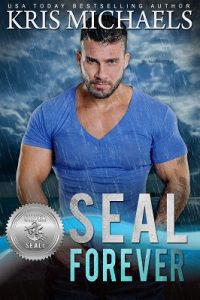 "About SEAL Forever:
A career ending injury forced Creed Lachlan out of the Navy SEALs. Now he works as a freelance contractor for a highly classified sub-set of Homeland Security, the Bone Frog Division. His country calls when it needs his elite skills. His current mission is to identify the production site for emerging "dirty" bombs. If that dictate wasn't enough, his team must locate the missing CIA agents who'd previously tracked the weapons, and that team's last known location was Cuba. His contact in Cuba wasn't the sixty-year-old man he'd been told to expect, but a sultry beauty hellbent on driving him insane.
Mariella Diaz's uncle sat atop the largest black-market organization in Cuba. Outmaneuvering the corrupt communist regime to provide the people of her country with necessities was second nature. Even so, keeping the sexy American and his team out of danger would require extra diligence. In a game of cat and mouse played out in a deadly arena, Mariella faces a risk more perilous than capture, torture, and imprisonment. She risked losing her heart to Creed Lachlan.
Creed wanted Mariella. He wanted to ease the pain that peeked through her bravado, to love and protect the woman who defied and antagonized him at every turn. Creed's only concern, could she love a SEAL, forever?
Targeted Age Group: 18+
Written by: Kris Michaels
Buy the ebook:
Buy the Book On Amazon
Buy the Book On Barnes & Noble/Nook
Buy the Book On Apple Books
Buy the Book On Kobo
Author Bio:
USA Today and Amazon Bestselling Author, Kris Michaels is the alter ego of a happily married wife and mother. She writes romance, usually with characters from military and law enforcement backgrounds.
Kris was born and raised in South Dakota. She graduated many years ago from a high school class consisting of 13 students (yes that is thirteen, eleven girls and two boys… lucky boys). She joined the military, met her husband, and traveled the world. Today she lives on the Gulf Coast and writes full time.
Kris is an avid people watcher and dreamer. The stories she writes are crafted around the hopes and dreams of a true romantic. She believes love is essential, people are beautiful, and everyone deserves a happy ending.
When she isn't writing Kris enjoys a full life revolving around family, friends, laughing, whiskey, and cold red wine. (Yes cold… don't judge.)
Follow the author on social media:
Learn more about the writer. Visit the Author's Website
Facebook Fan Page
Twitter
This site contains affiliate links to products. We may receive a commission for purchases made through these links.