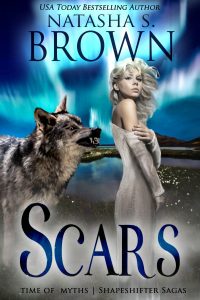 "About Scars:
Along the unforgiving coast of Snæland, Ásta's ancestral farm is plagued with bad luck. The kinless maiden's turf walls continue to be found damaged with claw marks, reviving old memories of the wolf attack that left her scarred, and she begins to fear the whispers are true—that Fenrir, son of Loki and king of the wolves, has come to claim her.
Torin often leaves his uncle's farm in the southern hills to track and ensnare valuable gyrfalcons. His secret ability to turn into raptors means his falconry skills are unparalleled, earning him precious silver. If the memory of his sister's death didn't haunt him daily, pushing him to numb his senses with drink, Torin might have married by now—as his uncle often reminds him. But the time has finally come to find a wife and settle down.
With bad luck biting at their heels, the scars from their past may seal their fate and put them in an early grave.
Targeted Age Group: 18+
Written by: Natasha Brown
Illustrated by: Natasha Brown
Buy the ebook:
Buy the Book On Amazon

Buy the Audio Book:
Buy the Book On Amazon
Buy the Print Book:
Buy the Book On Amazon
Author Bio:
USA Today bestselling author Natasha Brown's imagination has always been a distraction. The books she read in the dark past bedtime fed her excitement for fantasy worlds. Once she started writing, there was no stopping her. By day, Natasha's an assistant teacher at an elementary school, and by night she's a book cover designer. Her weekends are spent writing and spending time with family.
Follow the author on social media:
Learn more about the writer. Visit the Author's Website
Facebook Fan Page
Twitter
Instagram