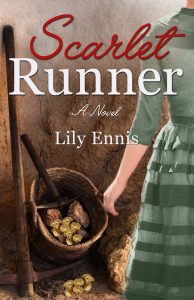 "About Scarlet Runner:
At a time of worldwide revolt against an oppressed and exploited working class, the 1912 Waihi Strike tested the resolve of Mary and Archie, warring unions, the town and the government. None could have forseen the tragedy that would propel the strike into the annals of history.
Mary grew up on the Hauraki gold fields having emigrated from Scotland with her family. As the daughter of a mine manager she enjoys a charmed life and teaches piano, sure that music would be the one thing that defines her.
Archie Wright came to Waihi to be near his brother after his wife died in childbirth. With two small children to provide for he accepted a job as a stationary engine driver, a position well below the mine manager job he left in Ballarat.
When the engine drivers form a separate union Archie does not join them and the action leads to the longest strike in New Zealand's history.
Amongst the turmoil Mary and Archie fight for the rights of the strikers, he as a union representative and she as a Scarlet Runner. But their message is not well received and the government clamps down heavily on the strikers by sending more and more police to the town as the strike drags on.
Archie finds himself opposing his brother and Mary causes grievous upset by defying her father. Her family becomes the target of mischief making which has unintended and fatal consequences and which forces Mary to question her loyalties.
Targeted Age Group: Adult
Written by: Lily Ennis
Buy the ebook:
Buy the Book On Amazon
Buy the Print Book:
Buy the Book On Amazon
Author Bio:
I have a business background principally in valuing property. I completed an Earth Science degree (geology) in 2010 and decided a great way to channel the passion I have for the sciences is to combine it with writing. So look out for highly motivated and academic heros and heroines. I'll see if I can't get a little romance going for them!
My home for the past 29 years has been a one hundred year old timber farmhouse on a few acres of land outside the gorgeous town of Thames in New Zealand. My husband and I host touring cyclists and we also enjoy cycling. One day we hope to be touring the world on our bikes.
A goal of mine is to complete a walk from the tip of New Zealand at Cape Reinga to the bottom of New Zealand at Bluff. I am loosely following the Te Araroa Trail and have completed several segments during the holidays – yes I work full time in a law firm. Of course, one day the walk will be the subject of a book. That fact alone is motivation enough to complete the walk. It's tough.
I have tried to live in a minimalist fashion over the last few years and to this end I find that I am even more aware of my environmental footprint than ever before. As a science graduate I am acutely aware how fragile planet Earth is and my message to all is that we must tread lightly, purchase goods ethically and with thought and treat everything in nature with awe.
Meanwhile I have plenty of ideas in my head to keep the typewriter keys clacking.
Enjoy my site and my books.
Follow the author on social media:
Learn more about the writer. Visit the Author's Website
Twitter
This site contains affiliate links to products. We may receive a commission for purchases made through these links.