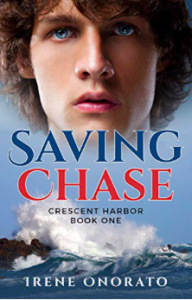 "About Saving Chase:
Three lives on a collision course with destiny…
Logan Construction Services CEO Dan Logan desperately wants to get away and lick his wounds after being dumped by his fiancée and suffering through a devastating jobsite fatality on the same day. He retreats to a secluded island alone, but his vacation takes a dangerous turn when he rescues a teenage boy who shipwrecks on the rocky shore. A battle of wills ensues that threatens both their lives.
Dory Devereaux, a widow of six years, flees Massachusetts with her delinquent sixteen-year-old son, Chase, hoping to keep him from being placed in juvenile detention until he's deemed an adult at eighteen. Her world crumbles when she finds Chase missing the morning after arriving at her former in-laws' house in South Carolina.
Anxiety turns to despair when the police take Dory to the morgue to possibly identify a teen boy whose body was found washed ashore by a local fisherman. Can things get any worse?
Targeted Age Group: 14-14
Written by: Irene Onorato
Buy the ebook:
Buy the Book On Amazon

Buy the Print Book:
Buy the Book On Amazon
Buy the Book On Barnes & Noble/Nook
Author Bio:
Irene Onorato was born and raised in Bronx, New York. In 1972, a few months after graduating high school, Irene met James Onorato, a soldier who had just returned from Vietnam. After dating two weeks, they married, raised three children, and are still happily married today.
Irene and James live in Louisiana with their two cats and a dog who was rescued by the Cajun Navy during the great flood of 2016.
Readers con visit Irene's website at ireneonorato.com, and find her on Facebook and Twitter.
Follow the author on social media:
Learn more about the writer. Visit the Author's Website
Facebook Fan Page
Twitter
This site contains affiliate links to products. We may receive a commission for purchases made through these links.