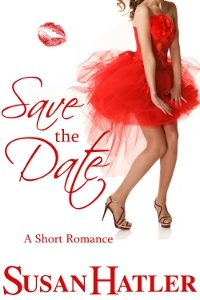 "About Save the Date:
Kristen knows men hide things. Case in point, her last boyfriend turned out to be married. Just like anyone else would be, Kristen is devastated. However, since Kristen evaluates people for a living, her ex's duplicity has her searching for a new career as well as swearing off men.
Touring history museums with her sexy friend Ethan doesn't count, because he has a girlfriend, and has only shown friendly interest in Kristen. He even helps with her career counseling tasks. Although Kristen has a secret crush on Ethan, spending time with him is safe. Until she discovers he's actually single. Gasp. And now he's flirting with her, too.
Suddenly, Ethan is way too dangerous. Not to mention tempting. Sure, he seems like sixty shades of perfect, but how's a girl with bad judgment supposed to detect what skeletons he has in his closet?
Targeted Age Group: General adult
Written by: Susan Hatler
Buy the ebook:
Buy the Book On Amazon
Buy the Audio Book:
Buy the Book On Amazon
Buy the Print Book:
Buy the Book On Amazon
Author Bio:
SUSAN HATLER is a New York Times and USA TODAY bestselling author, who writes humorous and emotional contemporary romance and young adult novels. Many of Susan's books have been translated into German, Spanish, French, and Italian. A natural optimist, she believes life is amazing, people are fascinating, and imagination is endless. She loves spending time with her characters and hopes you do, too.
Follow the author on social media:
Learn more about the writer. Visit the Author's Website
Facebook Fan Page
Twitter
This site contains affiliate links to products. We may receive a commission for purchases made through these links.