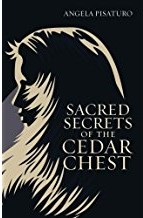 About Sacred Secrets of the Cedar Chest:
Veronica Wheaton is a wounded adult. She has suffered deep wounds relating back to her childhood upbringing. Veronica allow those hurts and abuses to influence her career as a reporter; as a result, she almost self-destructs. If not for the annoying Bible-thumping weatherman who recognized her pain, Veronica would have never found the answer and healing for her wounds.
This is a poignant account of the life of a child in a home where a parent suffers from bipolar disorder. Vivid depictions of every day situations are displayed and how it is dealt with in the family unit.
Whether you can identify with Veronica or not, you'll come away being blessed for having a glimpse into a disturbing disorder and how God can conquer and heal even broken families.
Buy the ebook:
Buy the Book On Amazon
Buy the Book On Barnes & Noble/Nook

Author Bio:
Angela's novels depict real life situations regarding women who have been wounded in some way. She offers inspiration and hope through her novels. Angela teaches creative writing at a local community center. She gives talks about her books to local church groups. She studied writing at the Jerry Jenkins Christian Writers Guild. She has penned articles for Pet Supermarket, Creation Illustrated and had been an inspirational columnist for a local online newspaper.
She received an honorable mention from John Gardner Awards for her character portrayal in The Rich American Woman. She also ranked in the top 15 for Pockets Magazine 'Put Children First' first lines contest for her children's picture book, "The Superintendent of Second Avenue."
This site contains affiliate links to products. We may receive a commission for purchases made through these links.