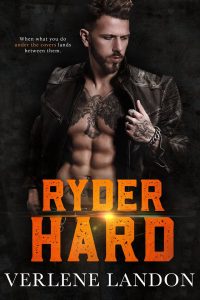 "About Ryder Hars:
When what you do under the covers lands between them.
**********
What would you do if your weekend tryst turned your encounter into a best-selling novel and movie?
Well, if you're Trevor Dickson, son of legendary porn stars and a former child actor, you audition for it, of course.
Ryder—Trevor's go-to alias—helped him maintain a no attachments lifestyle. Not to mention, escape his parents' infamy . . . and his own. A lifestyle he'd always enjoyed until he spent one amazing weekend with a woman who he wanted to know him as Trevor.
What better research for an erotic romance novel is there than a weekend of passion using fake names and no phone numbers?
Tangela Webber wanted to be the biggest thing to hit the book world since e-readers.
Tangie got more than she bargained for. Fame came swiftly, and her debut novel was being made into a movie. She knew her anonymity wouldn't last forever. She just never expected it to end when her real-life muse walked in to read for the leading role.
Who better to play that part than the original Ryder Hard?
Targeted Age Group: 18
Written by: Verlene Landon
Buy the ebook:
Buy the Book On Amazon

Author Bio:
Verlene was born and raised in the south, and mostly pens tales of hot tattooed men and the women who love them.
Thanks to the military, she's traveled the US, but now calls Sin City home…again.
She's a self-proclaimed zombie apocalypse enthusiast, word porn peddler, human canvas, Manowarrior, serial grammar killer, rabid Bama fan, accidental dust bunny population specialist, Coach whore, and Harley riding abuser of the word f*ck. Lover of all things wine, skulls, Lemmy, and the 80s.
She's thrown live grenades, survived the tear gas chamber and forced road marches, but still believes writing and publishing are more brutal.
Follow the author on social media:
Learn more about the writer. Visit the Author's Website
Facebook Fan Page
Twitter
Instagram