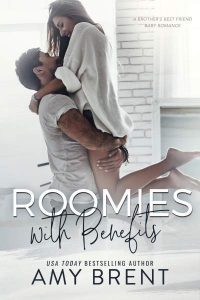 About Roomies with Benefits: A Brother's Best Friend Baby Romance:
"She needed a fake fiancé. I needed a roommate.
But now I want more than benefits…
There's nothing fake about my love.
I only wanted to help her. Abigail is my best friend's little sister.
Hot, sassy, and down on her luck. So, I took her in.
Now I can't stop thinking about her. Watching her. Wanting her.
Her sinful curves play with my mind.
But she's off limits.
Her psycho ex is back, and he won't take no for an answer.
She needs a fake fiancé to get rid of him,
But there's nothing fake about my feelings.
Abigail's more than just a roomie with benefits.
If her ex touches her, I'll show him more than just the door.
I don't need a weapon to maim, all I need is my fists.
Abigail thought it was all fake… it's time to show just what's real."
Buy the ebook:
Buy the Book On Amazon

Author Bio:
Amy writes hot, spicy romances that feature gorgeous alpha men who love to protect their women. Amy's heroes are rough, hot, bad boys and billionaires who possess that soft heart a woman definitely yearns for.
This site contains affiliate links to products. We may receive a commission for purchases made through these links.