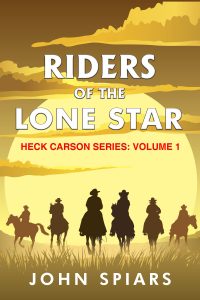 "About Riders of the Lone Star:
The year is 1852 and a handful of settlers work to carve out an existence on the Texas frontier. It is a harsh life, where families are at the mercy of hostile Comanche and vicious outlaws, and the only ones holding the line between life and death are a few brave men, known as Texas Rangers. These men, outnumbered and outgunned, patrolled thousands of square miles, in an effort to bring law and order to the untamed land. They faced impossible odds with nothing more than grit, determination, and a fast gun. Sixteen year old Jesse "Heck" Carson leaves his comfortable home to join the fight, and in the process realizes the life of adventure he seeks comes at a price, the cost of which is hardship, danger, and possibly his own life. The bonds of friendship, loyalty, and duty will lead him into epic battles that will test both his courage and resolve. Along the way, he learns what it means to wear the star of the Texas Rangers.
Targeted Age Group: 18-100
Written by: John Spiars
Buy the ebook:
Buy the Book On Amazon
Author Bio:
JOHN SPIARS is the author of Riders of the Lone Star, Hell and Half of Texas, Bound for Vengeance, Blood Trail, and Forbidden Country the first five novels in the Heck Carson Series as well as Bury me at Palmetto Creek, a western supernatural novella. Writing in the style of Louis L'Amour, Zane Grey, William Johnstone and Larry McMurtry, John Spiars is a western writer and amateur historian with a passion for telling the stories of the American West. In his novels, he combines his love of "Old West" history, Texas history, and telling an entertaining story, while also staying true to the people who forged this country out of a lawless frontier. He is a native Texan, and continues to live in North Texas with his wife and four children.
Follow the author on social media:
Learn more about the writer. Visit the Author's Website
Facebook Fan Page
This site contains affiliate links to products. We may receive a commission for purchases made through these links.