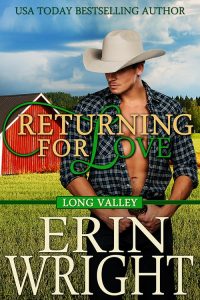 "About Returning for Love – A Western Romance Novel:
If Declan could turn back time, the rugged cowboy would do things differently. For one, he would've never let go of Iris Blue McLain. Fifteen long and lonely years, and the ache in his heart is as painful as ever. When he sees her again, he can't deny his feelings any longer, and vows to win the only woman he's ever loved…
Targeted Age Group: all
Written by: Erin Wright
Buy the ebook:
Buy the Book On Amazon
Buy the Book On Barnes & Noble/Nook
Buy the Book On Smashwords
Buy the Book On Apple Books
Buy the Book On Kobo
Buy the Print Book:
Buy the Book On Amazon
Buy the Book On Barnes & Noble/Nook
Author Bio:
USA Today Bestselling author Erin Wright has worked every job under the sun, including library director, barista, teacher, website designer, and ranch hand helping brand cattle, before settling into the career she's always dreamed about: Author.
She still loves coffee, doesn't love the smell of cow flesh burning, and has embarked on the adventure of a lifetime, traveling the country full-time in an RV. (No one has died yet in the confined 250-square-foot space – which she considers a real win – but let's be real, next week isn't looking so good…)
Find her updates on ErinWright.net, where you can sign up for her newsletter along with the requisite pictures of Jasmine the Writing Cat, her kitty cat muse and snuggle buddy extraordinaire.
Follow the author on social media:
Learn more about the writer. Visit the Author's Website
Facebook Fan Page
Twitter
Instagram