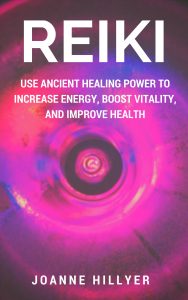 "About Reiki: Use Ancient Healing Power to Increase Energy, Boost Vitality, Improve Health:
This book will teach you about the ancient Japanese healing art of Reiki, the practice of using the body's natural energy to heal. Reiki is safe, gentle, non-invasive, and without negative side effects. It has been used to help a variety of conditions, including depression, stress, addiction, injury, and as a treatment for numerous illnesses including as cancer, HIV, and Alzheimer's disease.
Reiki is based on the belief that energy flows through all living things and if that energy becomes blocked or stagnant it can lead to illness and other adverse health-effects.
Reiki is performed by the practitioner placing his or her hands in a series of positions on or in the space over the subject's body. This sequence of hand positions is thought to clear blockages in the body's energy pathways, and to channel healing energy into the places where it is needed. Those receiving Reiki treatment typically report feeling warmth, tingling, and a deep feeling of relaxation from the very first visit.
In this book you will learn:
– What is Reiki?
– The history of Reiki
– Reiki and chakras
– The benefits of Reiki
– The five Reiki principles
– The three pillars of Reiki
– Research on Reiki
– Experiencing Reiki
– How to become a Reiki practitioner
– How to practice Reiki on yourself
Targeted Age Group: adults
Written by: Joanne Hillyer
Buy the ebook:
Buy the Book On Amazon

Author Bio:
Joanne Hillyer has a lifelong interest in wellness, healthy eating, alternative medicine, and the outdoors. She is especially interested in using easily found tools and ingredients for improving healthy living. Born and raised in the Pacific Northwest, she enjoys the great outdoors, travel, cooking, and walking.
Follow the author on social media:
Learn more about the writer. Visit the Author's Website
This site contains affiliate links to products. We may receive a commission for purchases made through these links.