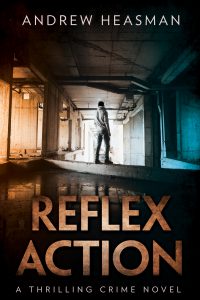 "About Reflex Action: A Thrilling Crime Novel:
Nick Griffiths is missing!
Police officers do not just vanish off the face of the earth – not in sleepy rural Britain, not when they are on-duty, in the middle of a night shift. With no clues as to his whereabouts, every aspect of Nick's apparently idyllic home-life, and his working relationships, would be scrutinised. Secrets would be uncovered, but would they give a clue as to his disappearance?
As a senior detective, DI Colin Peterson is appointed to head the team investigating the missing person case; however, all initial lines of enquiry seem to lead nowhere. Was he missing vital evidence? Was he even up to the task of being the SIO?
The focus of the investigation follows a more sinister path and enquiries lead to the brutal world of inner-city gang culture, drugs, and violence. What had Nick unwittingly stumbled upon?
As the mystery unfolds, the truth is not what was expected. Forced to examine his own past, DI Peterson faces a moral dilemma as he sets off on a crusade seeking justice and revenge.
Follow the twists and turns of the police investigation. Will Nick be found safely?
A British police/crime thriller.
Targeted Age Group: Adult
Written by: Andrew Heasman
Buy the ebook:
Buy the Book On Amazon

Buy the Print Book:
Buy the Book On Amazon
Author Bio:
Andrew Heasman was born in London, and has always had the travel-bug. Having joined the Royal Navy at the age of 20, he travelled the world, rising through the ranks to become a Petty Officer aboard the aircraft carrier, HMS Invincible. His next career path saw him become a police officer in rural Lincolnshire. Patrolling the towns and countryside of the county, he faced difficult and dangerous situations alongside many lighter moments. Finally, he gave it all up to become a SCUBA diving instructor, following the sun as he worked his way around the globe. Currently living in Staffordshire with his wife and two daughters, he has put his experiences down in writing. "The Memoir Series" was born.
Follow his adventures, and read his books
Follow the author on social media:
Learn more about the writer. Visit the Author's Website
Facebook Fan Page
Twitter
This site contains affiliate links to products. We may receive a commission for purchases made through these links.