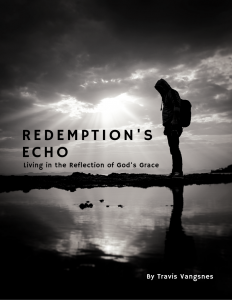 "About Redemption's Echo: Living in the Reflection of God's Grace:
Through personal stories and reflections, Redemption's Echo reminds us that God is always masterfully at work using and repurposing our lives, our mess ups, and even the "ordinary" events in the everyday to create jaw dropping moments of redemption and hope all around us. Even in our suffering.
In God's script, the "weakest" can teach us what great strength looks like, little kids can teach us what big faith looks like, and the suffering we face can help heal us as we're joined by Jesus. God's plans are limited by nothing and every circumstance we face is a potential land mine to blow our minds with his love, nearness, and power!
This book also reminds us how the gospel frees us from the futility of religious self effort and fuels our motivation to love and serve those around us with deeper grace and renewed compassion. With profound thoughts from the author's brain-injured brother (who cannot speak!) and stories of God showing up dramatically in unexpected places, Redemption's Echo will change how you view your own life in light of God's greater purposes.
Targeted Age Group: adult
Written by: Travis Vangsnes
Buy the ebook:
Buy the Book On Amazon
Buy the Print Book:
Buy the Book On Amazon
Author Bio:
Travis is passionate about the gospel and looking at ways in which it intersects every facet of our lives. He is an adoptive dad who has a big heart for foster care and adoption and is excited to see the church radically embrace the call to care for the marginalized as a beautiful reflection of God's pursuit of us. Travis works as a grant writer for America's Kids Belong, an organization that empowers leaders across sectors to use their influence to end the foster care crisis nationally. He loves mountain biking, traveling to new places, watching documentaries of any kind, telling lame dad jokes, and asking life's most important questions like "Has anyone ever tried to blend yodeling with hip hop?"
This site contains affiliate links to products. We may receive a commission for purchases made through these links.