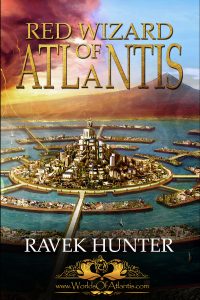 About Red Wizard of Atlantis:
Dark clouds gather on the horizon that threatens the very fabric of civilization. Lurking unseen, an evil so vile and treacherous spreads silently across the land. The peril is urgent and only living legends, and those who will become legends, have a chance to change the shadowy fate of what is to come.
The Fire-Bringer, the High priest of Kronus, God of fire and blacksmiths, embarks on an expedition to rescue a beautiful demi-goddess from unspeakable evil and the promise of true love. Akakios is secure in his faith, wielding the power of flame imbued by his god, but is he up to the challenge? The consequences of his actions will test his convictions and release upon the world a sinister plague that could shroud entire nations in eternal darkness.
Meanwhile, the "Mad Bard' has been awakened from his long slumber by troubling visions, and he gathers the Assembly of Nine to tell them what he has seen. Is it too late? Will his foretelling become a dire warning to heed the unnatural chill in the air that forebodes terrible events yet to unfold?
Among the first to experience these dark truths are Qel and his friend Havacian, two young Atlanteans only recently graduated from the Wizards Enclave. The friends travel out of Atlantis on a journey of 'Discovery' – a rite of passage for young wizards to test themselves outside of the sterile confines of the Enclave. They must learn to survive on their own and develop their skills under real-life conditions. And life gets very real for the pair, very fast. The inexperienced wizards will need to use every talent they have at their disposal and those they pick up along the way if they are to endure the storm that is gathering.
Buy the ebook:
Buy the Book On Amazon
Buy the Book On Barnes & Noble/Nook
Buy the Book On iBooks/iTunes
Buy the Book On Kobo

Author Bio:
Born in Homestead, Florida, Ravek Hunter grew up in the US and Belgium. He earned a bachelor's degree in marketing from Florida International University and went on to become a sporting goods executive. He currently serves as a consultant in the same industry and occasionally assists his wife of fifteen years at her floral design company. The proud father of two boys, Ravek counts reading, exercising, and family travel among his leisure hobbies.
Over the past 35 years, Ravek's passion has been researching ancient civilizations with a focus on the origin stories behind their mythology. His writing style attempts to immerse the reader into the story by bringing to life historically accurate and rich details of the culture that frames the narrative of the time period in which the novel is based.
Inspired by classic fantasy authors like Robert Jordan, Terry Goodkind, and R. A. Salvatore, Ravek writes to entertain and provoke his readers, who, he hopes, share his fondness for mythology.
Follow the author on social media:
Learn more about the writer. Visit the Author's Website
Facebook Fan Page
Twitter