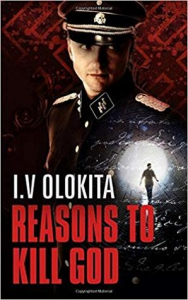 "About Reasons to kill God by I.V Olokita:
"If you are able to write 180 pages of your memoir without putting the pen down, I might let you live…"
Klaus Holland loves no one other than himself. He victimizes people for being Jews or for just being alive.
He is an old Nazi criminal who escaped to Brazil and was caught and prosecuted. He is now forced to write his memoirs as part of his punishment – the same punishment he used to give Jews at the concentration camp. This punishment makes him remember and re-live his cruelty as the concentration camp commander and as a man.
Deus Esperanca learns from his mother that what he believed to be his family's history, was just a bunch of lies. He discovers that his real father is Klaus Holland – the sadistic Nazi fugitive.
Having this information and his father being aware of what he knows, their lives intertwine and create chaos.
Targeted Age Group: 18+
Written by: IV Olokita
Buy the ebook:
Buy the Book On Amazon

Buy the Print Book:
Buy the Book On Amazon
Author Bio:
I.V. Olokita has been facing life-threatening situations for most of his life, specializing in the management of medical aid to disaster areas all over the world. He has a BA degree in logistics, and an MA degree in emergency and disaster situations' management. He also volunteers for rescue missions in disaster areas all over the world.
Olokita's first book (in Hebrew) – "Ten simple Rules", was published in 2014. It won an Israeli literary prize and immediately became an online bestseller. The following year, another book by Olokita – "Reasons to Kill God", became a local bestseller. In May 2016, his third novel – "A Wicked Girl", was published and was considered to be a great success.
I.V. Olokita is a happily married father of two and a foster father of five cats and two dogs.
He considers sleeping as a waste of time and spends his night writing.
Follow the author on social media:
Learn more about the writer. Visit the Author's Website
Facebook Fan Page
Twitter