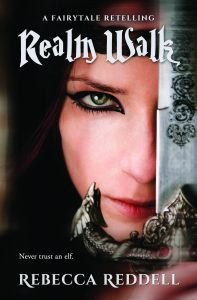 About Realm Walk:
Maezy is no sleeping beauty.
She prefers her sword to magic, is more comfortable chopping off limbs than kissing lips, and she can visit people in her sleep. However, life isn't a complete realm walk for a hybrid like Maezy. She has a gift anyone might kill for, and she's trained her whole life to deal with that eventuality.
That day has come.
Her father, the Elf King, has sent an army to kidnap her. He wants to use her talent to take over all the realms, but Maezy isn't ready to comply with his wishes. In fact, hoping to stop the onslaught, she's agreed to her mother's plan.
It looks as though her mother isn't the most powerful sorcerer after all.
The handsome, er, the associate her father has bribed into helping him has some superior warlock powers. Brandalfr's a hybrid as well, and he knows how Maezy feels. He's the only one, though, who can help. With so much at stake, will he be willing to assist her?
They're in this together.


Now Maezy must use more than her sword to beat her father and hold his hot- uh, irritating hybrid warlock at arm's length. After all, her mother always taught her to never trust an elf.
Buy the ebook:
Buy the Book On Amazon

Author Bio:
Rebecca Reddell, aka Becky, is native to Independence, Missouri. She loves her family and friends, dogs and cheese, and random things. Most of all, she loves to read and write various genres. One day she hopes to learn how to really play the piano and guitar and learn as many languages as possible. Until then, she hopes you enjoy her books!
Follow the author on social media:
Learn more about the writer. Visit the Author's Website
Facebook Fan Page
Twitter
Instagram
This site contains affiliate links to products. We may receive a commission for purchases made through these links.