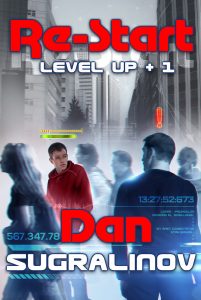 About Re-Start (Level Up Book #1):
Russian LitRPG-bestseller! Amazon Bestseller #1 in Motivational Category
What if you could wake up one morning and discover you were looking at the world through the interface of your favorite MMORPG? Suddenly you can see people's names and monitor your Reputation with them. You can identify objects and even locate them on the built-in map. An unknown piece of wetware in your brain rates your every action, issues quests, and rewards you with XP and new levels. It even bestows some very special abilities upon you.
This isn't some end-of-the-world scenario. This is here and now. An ordinary guy. An ordinary city. An ordinary life. Was.
Not any more, though. These days, even something as mundane as a quick jogging practice around the block can earn you XP points. Which in turn can earn you a new level. Which in turn… no. No spoilers, sorry.
Buy the ebook:
Buy the Book On Amazon

Author Bio:
Dan Sugralinov grew up in a small working-class town on the Russian border with Kazakhstan. It's a miracle he survived his childhood games of hide-and-seek in the surrounding building sites complete with perilous rebar structures and flooded foundation pits.
Ever since he learned to read at the age of five, he couldn't put a book down. Reluctant to earn himself the name of a conceited nerd, he concentrated on playing soccer which allowed him to become friends with the town's toughest kids.
In 1995, he graduated with honors, entering the St Petersburg Academy of Engineering and Economics where he studied business creation. He must have done something right because in the years that followed, he first worked on TV and radio just to get the taste of it, then opened his first successful business followed by several more. In between, he started writing and playing video games, winning the St Petersburg Mortal Kombat championship and becoming runner-up for Starcraft and Warcraft 3. He is a 14-times champion in Quake, Quake 2 and Quake 3 as well as the world's ex-#1 in the World of Warcraft.
In 2004, he wrote his first motivational novella The Bricks which to date has garnered him over 3,000,000 readers online alone.
In 2014, Russia's leading publishers of business literature Mann, Ivanov & Ferber published a revised and extended edition of his book, The Bricks 2.0.
In 2015, Dan discovered the existence of LitRPG. He devoured everything that had been written in that genre until he finally decided he too could write similar books.
In summer 2017, he published his first book in the subgenre of realRPG: Level Up.
Follow the author on social media:
Facebook Fan Page
This site contains affiliate links to products. We may receive a commission for purchases made through these links.