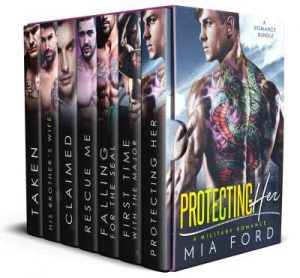 About Protecting Her:
The war was my fu*king nightmare. Veronica is my salvation.
I'll do everything to protect her.
Even if it means going back to that hellhole to bring her home.
I just got home from the war.
My nightmare is over, but a new one is just starting.
Veronica waited for me, but now she's leaving on a sh*t assignment.
Our second chance is fading fast, but I won't let it go.
Losing my life is nothing.  It's losing Veronica that scares me.
Sweet and beautiful… she doesn't belong anywhere near Afghanistan.
The military trained me to fight. Veronica trained me to love.
If she goes… then I go.
When my worst predictions come true,
I'll go after the ba$tards who took her from me.
I'll fight for her… and the baby she's carrying.
And I won't come home again without my family.
Buy the ebook:
Buy the Book On Amazon

Author Bio:
I am a contemporary romance writer who loves strong, gorgeous, Greek God like alpha men who love protecting their sassy and sexy women.
I am very honoured to have many of my books hitting the TOP 100 on Amazon's paid store!!!
Follow the author on social media:
Facebook Fan Page
This site contains affiliate links to products. We may receive a commission for purchases made through these links.