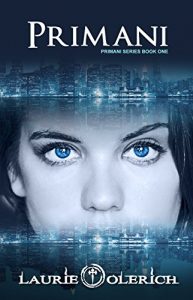 About Primani:
After surviving a year of heartbreaking tragedy, college student Mica Thomas is finally ready to have some fun. Determined to live life on her terms, she sets her sights on the gorgeous mystery man who keeps showing up when she's in trouble. Intense, cranky, and oh, so sexy, he's the exact kind of challenge she loves. Romance, adventure, and good friends–She's living the dream, but this dream is shattered when fate intervenes. When her life is threatened again, this budding psychic is suddenly swept under the protection of an immortal special ops team with a mission too fantastic to believe.
Powerful and ruthless, Sean O'Cahan is a legendary Primani. His job is to disrupt demon activity and protect special humans. When his special ops team is assigned to Mica Thomas, he knows he's there to guard more than her body. There are plans for her. Plans that'll change everything she believes if she survives long enough to learn the truth. For the Primani, this is a routine protection detail, but nothing about this woman is routine. Fiercely independent, brave, and sexy as hell, she's making him crazy. He's supposed to watch from the shadows, but the more he watches, the more he wants her in ways that break all of the rules.
As their attraction grows, sparks fly and emotions run hot. Sean's not allowed to mess with destiny, but one moment of weakness awakens a power in Mica that sends her careening down a path towards immortality that no one saw coming.
Accompanied by her demon-hunting Dalmatian, Mica's pulled into the Primani world of angels and demons until there's no way out, and she doesn't want to leave.
Buy the ebook:
Buy the Book On Amazon
Buy the Book On Barnes & Noble/Nook
Buy the Book On Smashwords
Buy the Book On iBooks/iTunes
Buy the Book On Kobo

Author Bio:
Laurie Olerich is a Texas girl with an unhealthy love of hockey, a taste for expensive bourbon, and an obsession with all things supernatural. She writes taut, action-packed, and wickedly sexy urban fantasy and paranormal romance. Creating a world filled with immortal soldiers, micromanaging archangels, and unforgettable demons is her one true passion. Give her angel juice and demon mojo any day of the week! She loves taking psychic abilities and twisting them around in new and exciting ways. Add in a ton of high-octane action, shocking subplots, funny characters who nag at her in her sleep, and explosive sex and she calls that a book! Her PNR elements tend to be demons, angels, and psychics not shifters, vamps, or fae. And she's got a thing for flawed, muscle-y smartasses who carry weapons. She just can't help herself. She likes sharp & pointies and things that go BOOM!
Follow the author on social media:
Learn more about the writer. Visit the Author's Website
This site contains affiliate links to products. We may receive a commission for purchases made through these links.