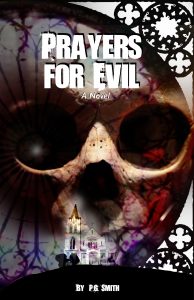 About Prayers for Evil: A Novel:
Chris Murphy and his young daughter arrive in Ashton Falls, Maine seeking a fresh start. A new job, new friends, and a new romance soon brighten prospects for Chris. But an unexpected visit from his ex-wife reveals conflicts and pitfalls. Soon he becomes aware of a series of mishaps that threaten people in the small town and begin to threaten those close to him. The source of this evil leads him to discover an ancient curse with roots in the Dark Ages, Nazi Europe, and the local church in Ashton Falls itself. Can Chris defeat this curse on Halloween night before it destroy his loved ones?
Buy the ebook:
Buy the Book On Amazon

Author Bio:
P.G. Smith is a former U.S.Army officer, public school administrator, special education teacher, and mental health counselor. While pursuing this wide variety of occupations, his writing has also appeared in periodicals that include Country Living, Military History, Canada's History, National Guard, Career World, and the Boston Globe. These days he divides his time between Boothbay Harbor, Maine and Ashburnham, Massachusetts.
He describes the process of writing "Prayers for Evil: A Novel" like this: "This story actually began as notes from a nightmare – the image of the protagonist was so vivid that I had to write down my thoughts when I woke up. Over several years I added characters, settings, themes, and plot twists until a classic New England horror novel emerged. I've had a lot of fun with this book and I hope readers will enjoy it as much as I enjoyed writing it."
Check out his website at: www.paulgregorysmith.com
Follow the author on social media:
Learn more about the writer. Visit the Author's Website
Facebook Fan Page
This site contains affiliate links to products. We may receive a commission for purchases made through these links.