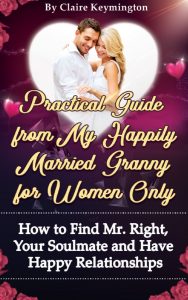 "About "Practical Guide from My Happily Married Granny for Women Only: How to Find Mr. Right, Your Soulmate and Have Happy Relationshipshttp":
FINDING the RIGHT MAN
You Need to Know This before Marriage to Avoid Wrong Decision, Mistakes and Divorce
Written by: Claire Keymington
Buy the ebook:
Buy the Book On Amazon
Buy the Print Book:
Buy the Book On Amazon
Author Bio:
Claire Keymington (1975) was born in UK, London.
Sie is a psychologist, whose fields are relationships, parenting, personal growth etc.
She is married and mother of two children. Her hobbies are also sport, cooking, foreign languages.
This site contains affiliate links to products. We may receive a commission for purchases made through these links.