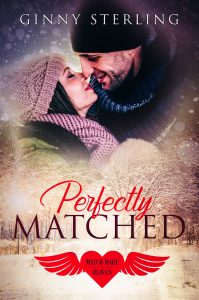 "About Perfectly Matched:
Nikki Eben has had a rough start to her life and learned a few harsh lessons, one of which is about trusting people. Kicked out long ago for a single mistake—she lost her friends, reputation, and family, but gained a loving child and her faith. It took a long time to get on her feet and raise her child by herself, but knowing that there's always a hand guiding her has kept her strong at her weakest moments—until she met Jakob.
Dr. Jakob Marlin was aghast at the sight of his new car being destroyed by the mischievous toddler running amok, and the fact that he was being reprimanded for it by the most beautiful woman he'd ever seen. Between the fierce verbal lashing from the young woman, to the chastising he was getting from his own mother on how he was raised not to yell at a woman, he knew something had to give!
Who says that everyone is happy and jolly during the Christmas season?
But when fate throws them together once again, perhaps it's a sign from Above that part of being a good Christian was forgiveness and caring for others. Sometimes love comes when you least expect it. Discover a story full of tenderness, laughter, and joy as two lost hearts suddenly find that they are Perfectly Matched.
Targeted Age Group: 18+
Written by: Ginny Sterling
Buy the ebook:
Buy the Book On Amazon

Author Bio:
Ginny Sterling is an avid romance writer. She lives to tell sweet, inspirational, tender tales that tug at the heart-strings. She enjoys reading and creating stories that leave the reader smiling, laughing or crying. She favors writing western or contemporary books – several of which are included in The Lawkeepers Series. Ginny is a co-creator of A Match Made in Heaven Romance Series with Jenna Brandt and Marie Higgins. She is also proud to announce that she will be participating in the Silver Pines Series in 2019.
Growing up, Ginny traveled extensively visiting family, seeing the sights, and learning that everything in life worth having revolves around love, faith and home. Having lived in several different parts of the United States, she and her family have settled in Kentucky. When not at work, she spends all of her free time writing, quilting, or shopping for coffee mugs to add to her collection.
Writing under an alternate pen name, Gina Cole- She dabbles in a fantasy world that whisks you away from the daily doldrums of reality with steamy contemporary and time travel romances. Her Bride series throws fate to the wind, bringing together two hearts…whereas her Timeless Brides series is more like a crash course in life, somewhere in the past, with a Hunka-hunka burning love.
Each book written is sure to be an adventure designed to bring laughter and love to your heart!
Follow the author on social media:
Learn more about the writer. Visit the Author's Website
Facebook Fan Page
Twitter
This site contains affiliate links to products. We may receive a commission for purchases made through these links.