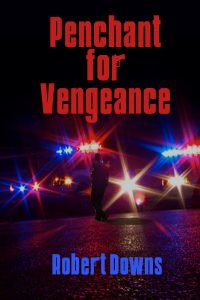 About Penchant for Vengeance:
Charlottesville, Virginia, Police Detective Luke McGinty has a closet filled with demons, along with a few skeletons; a steady job, but no steady partner or girlfriend; and is still married to his wife Sallie, even though she's been dead for three years. Then his detective work takes a turn for the worse when a body is discovered at the downtown mall. One dead body isn't enough, though, and another one turns up. When ties to a cold murder case in another county present themselves, Luke realizes that, if he doesn't tread carefully, he could end up short more than just a few answers…
Buy the ebook:
Buy the Book On Amazon
Buy the Book On Barnes & Noble/Nook
Buy the Book On Smashwords
Buy the Book On iBooks/iTunes
Buy the Book On Kobo

Author Bio:
Robert Downs aspired to be a writer before he realized how difficult the writing process was. Fortunately, he'd already fallen in love with the craft, otherwise his tales might never have seen print. Originally from West Virginia, he has lived in Virginia, Massachusetts, New Mexico, and now resides in California. When he's not writing, Downs can be found reading, reviewing, traveling, or smiling. To find out more about his latest projects, or to reach out to him on the Internet, visit the author's website: www.RobertDowns.net. THE BRIDAL CHASE is his seventh book and second novella.
Follow the author on social media:
Learn more about the writer. Visit the Author's Website
Facebook Fan Page