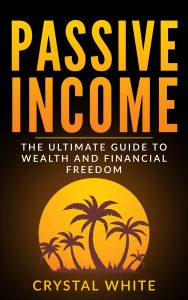 "About Passive Income: The Ultimate Guide to Wealth and Financial Freedom:
Are you looking for ways to create wealth and financial freedom? Do you believe that there are ways to make money while you sleep? Do you want to spend more time with your family and friends?
If you answer "YES!" to all of the above, then this book is perfectly written and designed to guide you achieve your goal in due time.
This Book, "Passive Income: The Ultimate Guide to Wealth and Financial Freedom" contains proven steps on how to earn passive income via internet.
If you wish to get rich and create wealth, you have to understand the different ways in which you can generate extra income other than your present job. It is a common fact that the working class is a slave to the money while the rich simply make money their slave. The key to creating wealth, therefore, lies in the truth behind this.
Targeted Age Group: 14-80
Written by: Crystal WHITE
Buy the ebook:
Buy the Book On Amazon

Author Bio:
Crystal White is a young entrepreneur who enjoys travelling, spending time with her friends and family and was looking for ways to avoid working for someone else in a 9 to 5 job. She basically wanted to be her own boss so she could manage her time and be free financially.
So she has made some researches and found some great ways to make passive income.
She then decided to write a book packed with information on how to make passive income so everyone can be aware about it and take action. This book gives a broad but great insight on how to become your own boss, be wealthy and be free financially.
This site contains affiliate links to products. We may receive a commission for purchases made through these links.