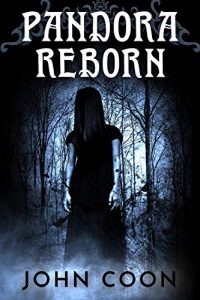 "About Pandora Reborn:
A buried chest unearthed. A malevolent witch returns. This nightmare is just beginning for Deer Falls. Can Ron Olson end it before everyone and everything he loves is destroyed?
Ron is a reluctant newcomer to Deer Falls. Adjusting to this small Colorado town is tough for him after being torn away from his father, his friends, and his soccer team.
Ron's situation takes a frightening turn when a mysterious woman in black is released from a buried chest that imprisoned her. This ancient and powerful evil descends upon Deer Falls and a series of unexplained deaths follow. No one is safe. Anyone in the town could be next.
Ron is soon targeted by the centuries-old malevolent witch as she spreads terror and death upon the town. Can he and his new friends find out the truth about the deaths that have plagued Deer Falls and stop the witch before more people die?
Targeted Age Group: Young Adult
Written by: John Coon
Buy the ebook:
Buy the Book On Amazon
Buy the Book On Barnes & Noble/Nook
Buy the Book On Apple Books
Buy the Book On Kobo
Buy the Print Book:
Buy the Book On Amazon
Buy the Book On Barnes & Noble/Nook
Buy the Book On Indie Bound
Author Bio:
John Coon has possessed a love for writing since age 12 when he typed out his first stories on an old typewriter belonging to his parents. For nearly 15 years, John has worked as a sports and business journalist. His byline has appeared in multiple publications and on multiple websites nationwide. John is a lifelong Utah resident and a graduate of the University of Utah.
Follow the author on social media:
Learn more about the writer. Visit the Author's Website
Facebook Fan Page
Twitter