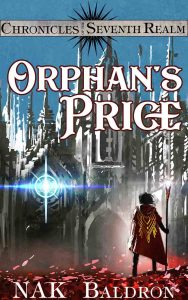 "About Orphan's Price by NAK Baldron:
An orphaned boy, uncontrollable magic, and a destiny to recover a nation's honor.
For sixteen-year-old Ren, life was a brutal slog in the orphanage. His only aspiration was to become a sorcerer.
But with no family connections, he had no chance…
Until, a freak magical accident drew the attention of international authorities.
Will Ren evade the authorities, and take his one chance to pass the ritual required to join the Amethyst sorcerers?
Or will his low birth doom him and the world?
Targeted Age Group: Young Adult
Written by: NAK Baldron
Buy the ebook:
Buy the Book On Amazon
Buy the Print Book:
Buy the Book On Amazon
Author Bio:
NAK Baldron is a Fantasy author, and avid reader of the gerne. His books are meant as a love letter to the genre.
Follow the author on social media:
Learn more about the writer. Visit the Author's Website
Facebook Fan Page
Twitter
Instagram
This site contains affiliate links to products. We may receive a commission for purchases made through these links.