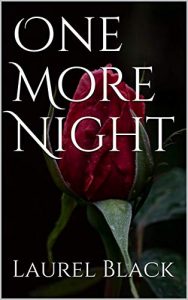 "About One More Night:
Around him, people moved on with their lives. He smelled fast food and alcohol, heard some of the conversations pass him by. He heard the planes taking off outside, and the bustle of the people shoving each other, trying to get on. There they all were, moving around him, paying little to no attention to the two men standing awkwardly in the corridor, men who have absolutely no idea what to say to each other. And it irked him. Quietly, he looked up at Jeremy again, a resolute light in his eyes.
And Jeremy froze.
He saw the pain in the young man's eyes. He saw the tremor in his hands, and the thinly veiled rage just hidden underneath. He saw the confusion and the complete and utter terror in his expression. And then it dawned on him at just how badly he fucked up.
And all it took was that phrase, "One more night."
Targeted Age Group: 18+
Written by: Laurel Black
Buy the ebook:
Buy the Book On Amazon

Author Bio:
Laurel Black is a writer who enjoys eating, sleeping, and dreaming of nothing in particular. She finds inspirations in various video games and movies, as well as other books. You can learn more about her on her blog, https://thetragedyoflaurelblack.wordpress.com.
Follow the author on social media:
Learn more about the writer. Visit the Author's Website