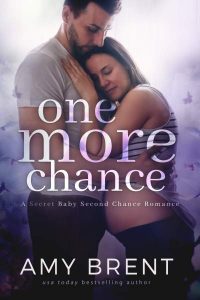 About One More Chance:
You never forget your first love…
I certainly haven't forgotten Mr Tyler Browning.
Partly because he was the complete package of perfect from his sparkling green eyes to those deliciously muscled arms.
And partly because he left me a child – Brody. The centre of my world.
I see his daddy everyday in that bright smile.
I sometimes wonder if I should have told Tyler the truth.
Then I remember our last fight when we both said too much.
I did the right thing for my kid.
You never forget your first love…
Especially when he walks right back into town.
Can I resist the lure of a second chance?
What happens if he finds out my secret?
Buy the ebook:
Buy the Book On Amazon

Author Bio:
Amy writes hot, spicy romances that feature gorgeous alpha men who love to protect their women. Amy's heroes are rough, hot, bad boys and billionaires who possess that soft heart a woman definitely yearns for.
This site contains affiliate links to products. We may receive a commission for purchases made through these links.