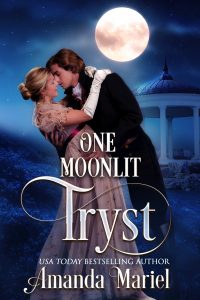 "About One Moonlit Tryst:
Lady Tabitha Pemberton wants nothing more than to enjoy her first season without becoming attached, but when Lady X writes of a forbidden tryst between Tabitha and Colin Brooks, the earl of Harcourt, everything changes. Now Tabitha must choose between her reputation and her desire to remain unattached.
Targeted Age Group: 18+
Written by: Amanda Mariel
Buy the ebook:
Buy the Book On Amazon
Buy the Book On Barnes & Noble/Nook
Buy the Book On Smashwords
Buy the Book On Apple Books
Buy the Book On Kobo
Buy the Audio Book:
Buy the Book On Amazon
Buy the Book On Audible
Buy the Print Book:
Buy the Book On Amazon
Author Bio:
USA Today Bestselling author Amanda Mariel dreams of days gone by when life moved at a slower pace. She enjoys taking pen to paper and exploring historical time periods through her imagination and the written word. When she is not writing she can be found reading, crocheting, traveling, practicing her photography skills, or spending time with her family.
Follow the author on social media:
Learn more about the writer. Visit the Author's Website
Facebook Fan Page
Twitter