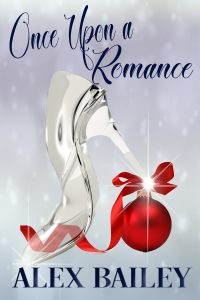 About Once Upon a Romance:
Christmas. Disney. Romance. No greater magic.
Can a bit of Christmas magic help this ruggedly-attractive stranger win Sophie's heart when she believes it already belongs to Darren? And will Sophie continue to allow her painful past to haunt her, or will she let it go?
A heart-warming holiday romance set in the "Happiest Place on Earth".
Buy the ebook:
Buy the Book On Amazon
Buy the Book On Barnes & Noble/Nook
Buy the Book On iBooks/iTunes
Buy the Book On Kobo

Author Bio:
Alex Bailey was a bored writer/editor of documents as humdrum as vacuum cleaner manuals. She left that life behind to create more exciting worlds than the one she lived in. The Future Memoir of Ann Jones was the first book under her (absolutely necessary) assumed identity (in order to hide Ann Jones' identity). When she's not dreaming of being swept away to the "happiest place on earth," she's tending to her organic garden while belting out Disney tunes. Some of her favorite hobbies include: telling her children that "Mother knows best", attempting to convince woodland creatures to clean her house for her, wishing upon stars, and Disney-ing.
Follow the author on social media:
Learn more about the writer. Visit the Author's Website
Facebook Fan Page
Twitter
Instagram
This site contains affiliate links to products. We may receive a commission for purchases made through these links.