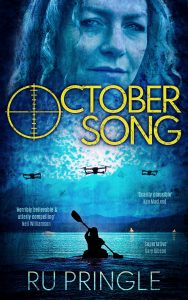 "About October Song:
COIRA KEIR is a long-serving police officer. Abrasive, but respected by her peers, she has an enviable track record. When a bomb explodes outside the North British Council Building at Holyrood, Edinburgh, dozens of bystanders are left dead. Among the critically wounded is the Prime Minister of the United Kingdom, whose safety was Keir's responsibility.
Now Keir is missing.
Army veteran Sebastian Blakeslee is an operational advisor for MI5, the domestic security agency of the United Kingdom. Lorna Ainsworth is the agency's territorial chief. Together, they find themselves leading a joint police and MI5 taskforce. Its mission: track Keir down before more bombs go off.
What follows is a cat-and-mouse chase towards the front of an intensifying war – along a wild coast where thousands of desperate boat-borne refugees are hiding. Meanwhile, as the taskforce will discover to its cost, someone seems to be going to extraordinary lengths to stop Keir being found.
With elements of police procedural, spy novel and political action thriller, October Song is both a darkly gripping roller-coaster ride and a blistering reflection on a world on the edge of collapse.
Targeted Age Group: Adults
Written by: Ru Pringle
Buy the ebook:
Buy the Book On Amazon

Buy the Print Book:
Buy the Book On Amazon
Author Bio:
Ru Pringle is one of the most interesting and exciting new writers to emerge north of the border since Iain Banks' – Gary Gibson, award-nominated author of Angel Stations, Against Gravity and Stealing Light.
Ru Pringle began his writing career at the age of 18, paying university bills by writing features for outdoor and climbing magazines. After a stint as an environmental scientist, he became a full-time writer, gradually veering towards travel journalism. He has also worked as a tree- and vineyard-planter, footpath builder, roofer, joiner, plumber, yacht crewperson, youth hostel warden, mountain and trail guide, oil-painting salesman, cook, sound engineer, and didgeridoo and mandolin tutor.
After several years as a touring musician, he published his first two novels in the summer of 2018: A Time of Ashes and Hunting Gods, the first parts of the fantasy / sf epic Fate and the Wheel. A dark future thriller, October Song, followed in october 2018. He is currently editing the centuries-spanning space opera Sanctuary for publishing early next year.
He lives in the South West Highlands of Scotland.
Follow the author on social media:
Learn more about the writer. Visit the Author's Website
Facebook Fan Page
Twitter
This site contains affiliate links to products. We may receive a commission for purchases made through these links.