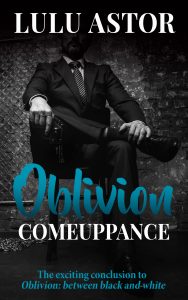 "About Oblivion: comeuppance:
Aja Lawson's happy life has quickly gone from bad to so much worse. An accident stole her adored young husband away in front of her horrified eyes. Crushing debt propelled her into selling herself right into the arms of a handsome stranger who claims to care but enjoys humiliating her. Now, she's been taken against her will by a man she'd thought was a friend but who is turning out to be anything but, proving once again that she doesn't know where to turn or whom to trust.
Swirling in this malignant mist surrounding Aja is the specter of Oblivion, a corporation that exists exclusively for the ultra-wealthy to wreak havoc upon the lives of unwitting people.
Aja is a target of all of these powerful men and she has no idea why. Will she escape with her life?
Oblivion: comeuppance is the exciting second-part conclusion to Oblivion: between black and white lie many shades of gray.
Buy the ebook:
Buy the Book On Amazon

Author Bio:
Lulu Astor was born in Brooklyn, NY, and for years lived in Lower Manhattan where she met her husband. It was an arranged marriage–it was arranged by their dogs' bromance. After marrying (the people, not the dogs), they had two human boys while moving across the country because they thought it would be fun to compress all of life's major events into one intense period. They made stops along the way from NY to LA before ending up back in downtown Manhattan and then ultimately in upstate New York.
Always a reader, always a writer, Astor's been at it in some form or another since… well, forever. Her love of the printed word has taken her from avid reader to proofreader, copy editor, and writer of nonfiction, short fiction, and finally novels. She also teaches writing and literature as an adjunct professor and totally appreciates having a captive audience.
When not writing, editing, or teaching, she can be found with her golden retriever and little rescue terrier somewhere in the hills of Connecticut or watching BBC shows on Netflix. Or napping
Follow the author on social media:
Facebook Fan Page
Twitter
This site contains affiliate links to products. We may receive a commission for purchases made through these links.