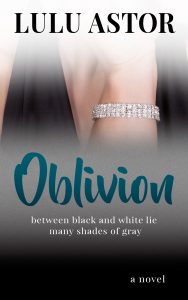 "About Oblivion: between black & white lie many shades of gray:
When tragedy strikes Aja Lawson, she believes her life has forever lost its luster. Indifferent to everything but the unrelenting and gnawing misery inside of her, she scrapes up the shards of the shiny girl she used to be and tries to somehow keep moving forward. But in the shadows, forces are gathering like tumbleweed to disrupt her life: forces, or more concisely, men.
Powerful men.
One man is bent on Aja's destruction; two others want to possess her, but all three have one thing in common: they are thoroughly, mind-and-body obsessed with Aja.
Oblivion is the high-stakes game where winner takes all. Aja Lawson is the ultimate prized possession.
Targeted Age Group: 18-65
Written by: Lulu Astor
Buy the ebook:
Buy the Book On Amazon
Link to Series: https://www.amazon.com/Oblivion-Duet-2-Book-Series/dp/B07FXQ97Q2

Buy the Print Book:
Buy the Book On Amazon
Author Bio:
Born in Brooklyn, NY, I lived for many years in NYC's Tribeca neighborhood where I met my husband. It was an arranged marriage—our dogs hooked up in a hot and heavy bromance and then we figured, what the hell? After marrying, we had two human boys in addition to our canine lads and moved across the country. Three years later we ended up back in Lower Manhattan and then landed in upstate New York.
I've always been an avid reader and started writing as a tot because I felt I had a lot to say—and to the dismay of many others I've never stopped. My love of the printed word has taken me from avid reader to proofreader, copy editor, and writer of nonfiction, poetry, short fiction, and finally novels. I also teach writing and literature as an adjunct professor and massively appreciate having a captive audience. The only things I loves as much as books are my husband, two sons, spectacular golden retriever, assorted felines, sisters, and every animal I ever meet.
And let's not forget chocolate.
Follow the author on social media:
Learn more about the writer. Visit the Author's Website
Facebook Fan Page
Twitter
This site contains affiliate links to products. We may receive a commission for purchases made through these links.