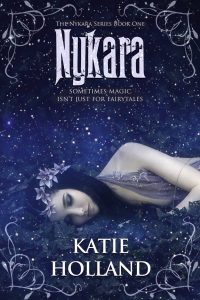 "About Nykara:
Nykara is the first novel in a thrilling young adult fantasy series.
For sixteen-year-old Alix, life was simple in her small town. However, that all changed the moment a mysterious boy moves into her town, Alix discovers strange occurrences all around her. Only, she quickly learns the magic she once believed to be fiction may be more real than she ever could have imagined.
Targeted Age Group: Teens, Young Adult, New Adult
Written by: Katie Holland
Buy the ebook:
Buy the Book On Amazon
Author Bio:
Katie Holland is the author of Young Adult and Romance novels. If she's not writing you can find her reading, cooking or baking for her family. Her love of writing goes back to elementary school and her love of books goes back even farther than that. She takes inspiration from the everyday and let's her imagination take over. She loves seeing new places and enjoying what nature has to offer.
Follow the author on social media:
Learn more about the writer. Visit the Author's Website
Facebook Fan Page
Twitter
Instagram
This site contains affiliate links to products. We may receive a commission for purchases made through these links.