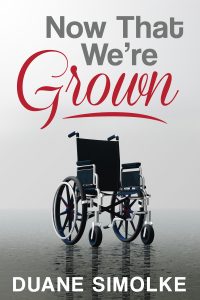 "About Now That We're Grown: A Gay Romance Short Story:
Gavin Hernandez and Peter Montoya meet before high school. Gavin admires how Peter never complains about being gay or using a wheelchair. During their senior year, Gavin takes profile pictures of Peter in that chair, but the gesture of good will leads to online bullying and a painful final stretch of school. Best friends slowly drift apart.
After college, they reunite in Dallas as more than friends. Gavin now designs facilities for people with physical challenges. Peter looks for a job to match his business administration degree. The past might destroy their relationship, or their love might change their lives.
MM romance/gay romance. Contains bullying, threats, mild violence, and sexual references.
This gay romance short story will be available as an eBook, starting January 1, 2019.
Targeted Age Group: New Adult
Written by: Duane Simolke
Buy the ebook:
Buy the Book On Amazon
Buy the Book On Barnes & Noble/Nook
Buy the Book On Smashwords
Author Bio:
Duane Simolke received StoneWall Society Pride in the Arts Awards for his books The Acorn Stories, Degranon, and Holding Me Together. He edited and co-wrote the fundraiser The Acorn Gathering: Writers Uniting Against Cancer. His writing has appeared in many print or online outlets, including nightFire, Mesquite, Caprock Sun, Beyond: Science Fiction & Fantasy, The Online Gay Community Magazine, The International Journal on World Peace, Who Writes Short Shorts?, This Week in Texas, and Gay Flash Fiction. He lives in Lubbock, Texas.
Follow the author on social media:
Learn more about the writer. Visit the Author's Website
Twitter
This site contains affiliate links to products. We may receive a commission for purchases made through these links.