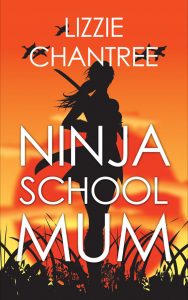 About Ninja School Mum:
Obsessive-compulsive school mum, Skye, is a lonely elite spy, who is running from her past whilst trying to protect the future of her child. She tries hard to fit in with the other parents at her son's new school, but the only person who accepts her unconventional way of life is new mother, Thea.
Thea is feeling harassed by her sister and bored with her life, but she suspects that there is something strange about the new school mum, Skye. Thea has secrets of her own and, although the two become unlikely friends, she hesitates to tell Skye about the father of her own child.
Zack's new business is growing faster than he could have dreamed but, suddenly, he finds himself the owner of a crumbling estate on the edge of a pretty village, and a single parent to a very demanding child. Could he make a go of things and give his daughter the life she deserved?
When three lives collide, it appears that only one of them is who they seem to be, and you never know who the person next to you in the school playground really is.
Buy the ebook:
Buy the Book On Amazon

Author Bio:
Award-winning inventor and author, Lizzie Chantree, started her own business at the age of 18 and became one of Fair Play London and The Patent Office's British Female Inventors of the Year in 2000. She discovered her love of writing fiction when her children were little and now runs networking hours on social media, where creative businesses, writers, photographers and designers can offer advice and support to each other. She lives with her family on the coast in Essex.
Follow the author on social media:
Learn more about the writer. Visit the Author's Website
Facebook Fan Page
Twitter
Instagram