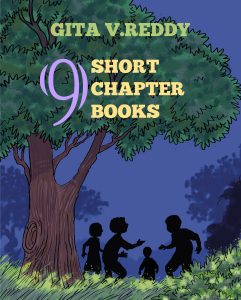 "About Nine Short Chapter Books:
This is an engrossing collection of different genre books for young readers. The titles included are:
1. The Homeless Birds
2. The Magiciann's Turban
3. Knife and Fork
4. Daksha the Medicine Girl
5.Make a Wish
6. Krishta, Daughter of Martev
7.The Forbidden Forest.
8.Dearie
9. The Missing Girl. Less
Targeted Age Group: 8-12 years
Written by: Gita V. Reddy
Buy the ebook:
Buy the Book On Amazon
Buy the Book On Barnes & Noble/Nook
Buy the Book On Smashwords
Buy the Book On Apple Books
Buy the Book On Kobo
Author Bio:
Gita V.Reddy lives in Hyderabad, India, with her husband and son. She writes fiction for both adults and children. Her books for children are written when she takes a break from writing for adults and vice verca.
She enjoys thinking up tales of different genres and has written historical fiction, women's fiction, and recently has made a foray into regency romance.
For children, she has written mysteries, adventure tales, fantasy, science fiction, and also a fable.
In addition to writing, she is interested in art and has illustrated three picture books.
Follow the author on social media:
Learn more about the writer. Visit the Author's Website
Twitter
This site contains affiliate links to products. We may receive a commission for purchases made through these links.