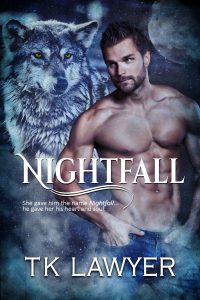 "About Nightfall:
A relationship was the one thing Tamara didn't want.
Burned by men, Tamara was done with dating. But someone keeps popping up from her past with reminders of what could've been. She faintly recalls Josh, a handsome man she didn't dare take a chance with, but the past is the past. She shut the door on that option long ago…or did she?
Josh's nightly runs end at a home he is unfamiliar with. The tantalizing scent inside calls to him, beckons him to explore and urges him to stay. So when the owner takes him in and he realizes she's his mate, Josh is lost as to what to do. He can't stay in the crazy situation and he no longer wants to remain her pet. He needs Tamara, now, in his bed, permanently but he has become her new pet, Nightfall.
Josh will stop at nothing to convince Tamara he is the one for her. But will she succumb to his charm and open her battered heart to a new, promising future- with him? Or will she walk away from the wolf who wants to love her, forever?
Targeted Age Group: 18+
Written by: TK Lawyer
Buy the ebook:
Buy the Book On Amazon
Buy the Book On Barnes & Noble/Nook
Buy the Book On Smashwords
Buy the Book On Apple Books
Buy the Book On Kobo
Buy the Print Book:
Buy the Book On Amazon
Author Bio:
Passionate * Playful * Paranormal
Award Winning Paranormal Romance Author, TK Lawyer has been writing since high school but it was sometime in 2011 when her writing blossomed into a career. Craving excitement and adventure, she jotted down a few notes and never looked back.
She writes what she loves with a realistic twist: fiery paranormal romance with curvy girls and alpha, protective, possessive males. Each unique tale is standalone with a guaranteed HEA. She loves to hear from her fans and invites them to contact her. New readers are encouraged to open one of her books and dive in, enjoying the fantasy worlds she builds solely from her imagination.
Follow the author on social media:
Learn more about the writer. Visit the Author's Website
Facebook Fan Page
Twitter
Instagram
This site contains affiliate links to products. We may receive a commission for purchases made through these links.