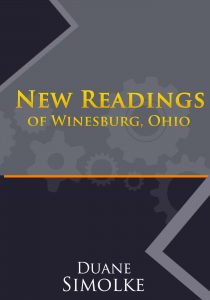 "About New Readings of Winesburg, Ohio:
Duane Simolke examines Sherwood Anderson's Winesburg, Ohio, as it relates to Gertrude Stein, gender roles, gay subtext, failed communication, and the machine in the garden. Simolke also looks at Anderson's concerns about mechanization, loneliness, and the mistreatment of many people.
Ch. I: Introduction
Ch. II: Anderson And Stein: Symbiosis
Ch. III: Teachers Groping In The Dark
Ch. IV: Men And Women
Ch. V: "More Than Man Or Woman"
Ch. VI: Industrialism: The Machine In The Berry Field
Ch. VII: Conclusion: Closing The Book Of The Grotesque
"This work should be required reading in any college course involving the art and craft of short-story writing as well as in courses on Sherwood Anderson, himself." –Ronald L. Donaghe, author of Common Sons.
Buy the ebook:
Buy the Book On Amazon

Author Bio:
Duane Simolke wrote The Acorn Stories, a story cycle in the tradition of Winesburg, Ohio. He first read Anderson's book while writing The Acorn Stories and liked how they both involved overlapping characters and settings in a small town. He decided to use Winesburg, Ohio as his doctoral dissertation topic at Texas Tech University. Anderson and his influences became strong influences on Simolke's depictions of rural life.
Simolke has written several other books. He also served as editor and one of six authors for the fundraiser The Acorn Gathering: Writers Uniting Against Cancer. He lives in Lubbock, Texas.
Awards: two Texas Tech University English Department Harbinger Awards for Excellence in Short Fiction, an AllBooks Reviews Reviewers' Choice Award, and four StoneWall Society Pride in the Arts Awards. Simolke has spoken on a variety of panels, mostly about the arts, his writing, and/or LGBTQ issues. His writing appeared in nightFire, Mesquite, Caprock Sun, Midwest Poetry Review, International Journal on World Peace, and many other publications.
Follow the author on social media:
Learn more about the writer. Visit the Author's Website
Twitter
This site contains affiliate links to products. We may receive a commission for purchases made through these links.